Does your child play out on the field? Support them on what they love while keeping their overall health in top shape! Aside from securing their sports equipment and protective gears, why not get them a mouth guard as well?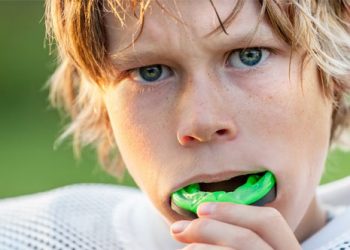 A mouth guard, as its name implies, is a type of oral device worn over the teeth that functions as a cushion to reduce and redistribute forces directed to the mouth. It is best used during contact sports and other activities that can make kids susceptible to injuries. Do know that an injury can last even for a lifetime that is why prevention is highly vital. However, using just any mouth guard will not work! Know the best type to consider by reading below.


Types of Mouth Guards
There are three types of mouth guards; stock, boil and bite, and custom-made. The first two can be easily purchased in most sporting goods store and are cheaper; however, they do not offer the best fit, comfort, coverage, and protection. The latter, on the other hand, is the ideal choice. It is made with the expertise of the dentist that creates the treatment plan and takes careful impressions. Doing so assures patients that the device they will be using is made just for them.

Custom-made mouthguards are created by taking all the grooves and shapes of the patient's teeth into consideration. Although they tend to be thicker than the other options, do know that this acts as a better shock absorber. One of the best parts is, it can also cater to children who are wearing their orthodontic appliance.

The Consequence of Choosing the Wrong Mouth Guard
It is possible that the child may complain that the protector they are wearing is too uncomfortable, and it affects their breathing and speaking function. As a result, they cannot focus on the game they are playing, or worse is, it can actually cause them to leave the mouthguard dangling or put it in their pockets.

To give children the adequate protection while supporting the things they love, let us Kiddie Cavity Care & Orthodontics provide custom-made mouth guards. Aside from this, we also offer customized night guards for children suffering from teeth grinding or clenching (Bruxism) to combat the adverse effects of the said disorder.


Get added protection for your children's teeth with the help of Mouth Guards in Temple Hills, MD! Call or visit us at Kiddie Cavity Care & Orthodontics to have their impressions taken for the customization of the oral appliance.